Emily Griffin-Smith is going from strength to strength in her career at Caterpillar, following an apprenticeship through Northern Skills.
After starting her journey on a Level 2 Welding course at Middlesbrough College, Emily soon progressed onto Level 3 Welding and from there was successful in gaining an apprenticeship at Caterpillar through Northern Skills.
Emily tells us: "I started my journey at Middlesbrough College later than most, beginning my first course in 2016 at the age of 21. Because of this, I expected to have a different experience to other students and expected less opportunities to be thrown my way – but this was not the case at all, I was treated the same as every other College student! I was so grateful to have the opportunity of an apprenticeship and that Caterpillar were not bias of age when hiring me as an apprentice.
"During my apprenticeship I was never held back, I was able to experience many of the different value streams and lines within Caterpillar, which helped my knowledge grow massively. Every manager I have had throughout my journey has been incredibly supportive of the apprenticeship programme, they understand that the best way to learn is by being hands-on."
Darren Shanks, Emily's current manager, has been with Caterpillar for over 20 years and is extremely supportive of their ongoing apprenticeship scheme.
Darren says: "Before taking on any apprentice we like to ensure the learners know what we do at Caterpillar and are keen to begin a new challenge, so we have an engaging interview process in place. Our programmes work differently for each apprentice and being in the workplace allows us to help guide apprentices onto their forever career, which they might not know before starting with us.
"Our budget has been increased recently, so we are investing more money in hiring new apprentices, we have 4 new starters joining just us next week. In the past 10 years we have had over 10 apprentices come through our doors and stay on as full-time members of staff, I think that is a true testament to the programme provided by Northern Skills."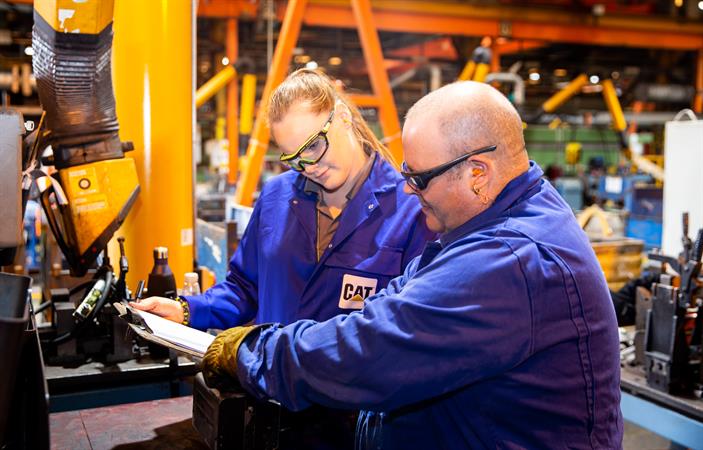 Emily's career at Caterpillar has flourished since her apprenticeship and she has recently progressed to an Operations Team Leader. Emily has gained more responsibility, including managing a team of her own and interviewing the latest batch of potential apprentices from Northern Skills.
Emily said: "As a team leader I conduct shift and safety briefs at the start of every day, whilst supervising my team during their working hours to make sure they are all working efficiently and safely. It is more responsibility being a supervisor, but it was my next career step, and I am really enjoying it!
"It was an absolute pleasure to interview the latest potential apprentices, it was quite bizarre as they are in the same position as I was when starting out Caterpillar and now, I am interviewing them! It's exciting to see the apprenticeship scheme growing. I am proof that it can set you up for life and I look forward to seeing our new learners follow in my footsteps."
More information on Northern Skills' apprenticeship scheme for employers can be found here.